Getting Started in the Model Rockets:

Blast off into the fun aRockets Ray & Robins Hobby Center, Falmouth, Mainend exciting of Model Rocketry. This hobby has been a favorite of schools, summer camps and scouting troops for many years. Model Rocketry is a hobby that encompasses model building, mathematics, science and a bit of physical activity.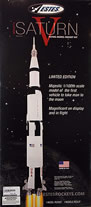 From ready to fly rockets to kits requiring building skill of various levels, this hobby offers fun and excitement and is recommended for ages 8 and older. Low-power rockets can soar to altitudes over 2000 feet. These rockets utilize single, two stage and three stage designs. High-Power rockets can excide altitudes of 5000 feet using only a single stage design.
You can also build a scale rocket like the Saturn V shown on the left. See more information on the Saturn V Scale kit.
So if a hobby that shoots for the moon has your interest, then come see our big selection of Rocket kits, motors and accessories.
The short videos below will give you a feel for the fun of launching your own Rocket adventure. Come into the Hobby Center to see our full selection of Rockets, both Ready-to-Fly and Kits that allow you to be as creative with your rocket as you would like.
CLICK IMAGE TO ENLARGE