Getting Started With R/C Airplanes: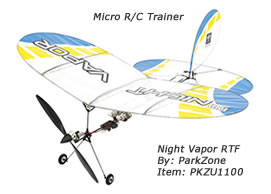 Selecting a Plane that is the right choice for you:
A new R/C pilot has several choices when first learning to fly. Years ago the normal choice would be to join a local R/C club, purchase a Nitro (Glow) powered trainer  like the Alpha 40 Ready to Fly (RTF), pictured above, and sign up for lessons. The club instructor would take your transmitter when he thought you were in trouble, or in more recent times use a "buddy cord" to connect your transmitter to a "buddy box", or another transmitter, so he could take control to keep your plane from meeting the ground at an un-survivable velocity. Today this is still a great choice, but you also have some additional routes to learning to fly:
Another option is to choose an Electric powered trainer like the Super Cub (RTF/BNF) aircraft pictured above. This plane was designed for self teaching of flying skills and includes "anti-crash" technology to help you avoid those getting started mishaps. You could still join a local club for assistance, but would be flying a clean electric powered craft rather than dealing with Nitro fuel. An ever growing choice is available in this size of the electric aircraft and battery options. Lithium Polymer (LiPo) batteries offer large amounts of energy in a relatively  small light package.


An introduction to R/C Aircraft could be the purchase of one of the many Micro Aircraft like the Night Vapor (RTF) pictured above. This aircraft is so light and resilient that you can learn to fly this aircraft on your own in a relatively small area. Although, this is more an introduction to R/C than learning all needed to take you into more advanced models… it is an easy way to get your feet wet at a low initial cost.
Frequently Asked Questions:
How much does it cost?
The average cost for a complete beginner's package (completed plane, engine, radio equipment, fuel and starter) costs from $350- $600. With lower cost if you choose a lower cost electric aircraft, starting at around $200.
How fast does a model go?
Trainers usually cruise at 25-30 mph and can land at speeds as slow as 12-15 mph. However, there are also airplanes that can fly at speeds over 200 mph!
How far can a model fly?
The rule of thumb is "as far as you can see it." To be more specific though, the range for a modern RC system is approximately one mile. Believe us when we say that a plane with an average wingspan of 5 feet looks pretty small a mile away.
What happens if I run out of fuel in flight?
Contrary to popular belief, you have control even if your engine stops running. You just glide your plane in for a "dead stick" landing. The radio system has its own batteries for power.
What are my local club choices?
There are several clubs in our local area... In the Portland area both the Propsnappers and Skystreakers offer model aircraft flying lessons during summer months. Check out the full list of area clubs on the Hobby Center Links Page.