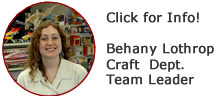 Hobby Center Craft & Hobbies Section:

If radio control hobbies or model building are not your interests, then be sure to visit our "Crafts and Hobbies" area. Here you will find everything from telescopes and metal detectors, to kites and Super Soakers.
We have a full line of science kits and workshops to get that young scientist in your family going. Bethany has also stocked the forever favorites like Yo-Yo's, Slinkys, Marbles, and even Whoopee cushions!

For crafts we have jewelry making kits, rock tumblers, paint by numbers, puzzles, wood burning kits and a large selection of engraving art.
Also remember that when it's time to build this year's Pine Car Derby entry we have all the supplies you need to build your award winning car!
In the doll house area you will find both dollhouse kits and premade houses. For customizing your dollhouse we have wall paper, flooring, lighting kits, and furniture.
If you can't find exactly what you want, Bethany has several catalogues full of unique items she can show you. So if you're looking for something educational, just fun, or a last minute birthday gift, be sure to check out our selection of Crafts and Hobbies.